AGE GRADED
BOWEN ROAD Friday, 13 MAY 2022 – Monday, 30 MAY 2022
The Malcolm Phillips 5K Age-Graded Race will once again be held in a virtual format for 2022. You will have the freedom to choose to run at a time that suits you, as long as you complete the 5k course between the 13th-30th May (inclusive).
The age-graded format will remain the same as previous years. You submit your finish time and we use your date of birth to "Age Grade" it using tables produced by World Masters Athletics. These tables give you a new time which allows you to see how your result would rank against the other runners if you were all the same age.
E.g. The tables regard runners aged 18 – 34 as being in their "peak" so their times are not age graded. A 35 year-old's time would be adjusted downwards by a small factor to account for age. The factor is much larger for someone aged 90.
Prizes and medals will be awarded to;
The top 3 AGE GRADED times for men
The top 3 AGE GRADED times for women
The top Male and Female Overseas Runners will also receive a prize
The race is open to runners aged 18 or over on 13th May 2022.
All runners who enter will receive a limited edition AVOHK souvenir
All those who successfully submit a finish time will be awarded a personalised certificate.
New this year – International Runners!
Last year the virtual format of the race meant that Malcolm's brother and niece were able to participate by running on a 5k course in the UK.  We have decided to expand this option this year for AVOHK members. If you happen to be overseas during the race period, you can run 5k on a flat course near you and submit the result.  Like the Bowen Road runners, your upload must show Elapsed Time, Distance and the Course run.
Instructions
1. Register
Register online USING THE LINK AT THE BOTTOM OF THESE INSTRUCTIONS. Fee is HKD80 for members and HKD100 for non-members.
2. Prepare your Watch
Our preferred apps for results upload are Strava or Garmin Connect but any similar app which shows the course, distance and elapsed time is fine. Note- we will ONLY accept elapsed time. Moving time will not be accepted as a valid result. On Strava you can set Elapsed time as your default by setting the activity to "RACE" before or after you run.
3. The Course
Head up to Bowen Road.
START: The Course starts on Bowen Road at the junction with Bowen Drive. There is a line on the road there in front of the metered parking
(Picture 1). Start with the parking and playground on your right and run east, towards Stubbs Road.
Click here, or enter GPS coordinates: 22.2728, 114.16577
TURN AROUND: After 2.5k you will come close to the junction with Stubbs Road. There is a concrete box- like structure on your right (picture 2).
Click here, or enter GPS coordinates: 22.26641, 114.18204
This is your turn around point. Run back.
FINISH: It is vital that your result upload shows 5k so make sure that you don't stop running until you have completed the distance. This may or may not take you over the actual start line, depending on how you run the corners, exact turn around point etc.
Click here, or enter GPS Coordinates: 22.27282, 114.16608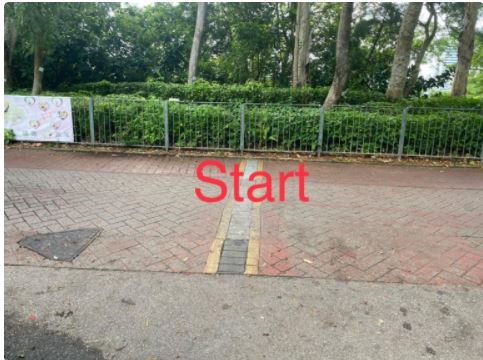 4. Social Media
Optional, If you would like, we would love to see your favourite finish line pic on the AVOHK Facebook page.
5. Upload your Results to our form here
The race closes at midnight on Monday 30th May. You will have one further day to upload your results, with this window closing at midnight on Tuesday 31st May.
6. Results
Age graded times, not actual times will be used to award prizes. Results will be posted on the AVOHK website on Thursday,2nd June.
Prizes, souvenirs and certificates will be sent to the postal address which you provided after the race closes.
Enquiries to bigmalavohk@gmail.com

Register HERE or fill below.