2023 World Masters Short Course Cross Country Championships
Bathurst, 17th – 19th Feb 2023
The 2023 World Cross Country Championships were hosted by Australia and held in the old gold mining town of Bathurst, famous for its motor racing circuit. About 3 hours' drive from Sydney. Athletics Australia and the local organizing committee were responsible for the organization of these World Championships.
Olympian Chris Wardlaw, an AVOHK Life Member and a long-time Athletics Australia official, was not only a director on the organizing committee but also a competitor. A big effort was made to honour and respect the local indigenous culture and they were very much part of the opening ceremony.
One of the unique features of these championships was the introduction of the very first World Masters Short Course Cross Country Championships supported by World Athletics and World Masters Athletics. This comprised a 2-person mixed team relay. One 2k lap each and held on the Saturday and the individual races on the Sunday. For the 70+ age individual category a 4km race (2 laps) and 35 years to 69 years a 6km race (3 laps).
The organizers put on a very challenging and testing cross country course, comprising 2km laps which included steep up hills, fast downhill, a very muddy section and a trip through a local vineyard. A true challenge and not too much time to catch your breath.
Some 220 masters athletes toed the line for the Sunday individual races. A number of former Olympic athletes competed in these masters races, including local Australian running hero Steve Moneghetti who has recently turned 60 years of age and is still in great condition. Steve won the M60 Individual category and also the 50+ mixed relays.
Whilst Hong Kong did not have any masters athletes competing, AVOHK's very own Chris Wardlaw was representing Australia in the M70 age category and finished a very credible 4th place.
Former AVOHK Member and previous winner of the Malcolm Phillips 5k, Craig Downie representing Australia had a very successful weekend winning gold in the 60+ mixed relays with his partner and bagging a very hard-fought 5th place in the M60 individual category. Also in attendance as a spectator and looking very fit was AVOHK legend and Life Member John Douma who resides in Phuket these days. Also spectating and supporting the runners was AVOHK Life Member and current M65 Hong Kong 5k masters track champion Frank McNamara.
All the results, including the main races, can be found here:
https://world-masters-athletics.com/wpcontent/uploads/2023/02/2023-WMA-Cross-Country-Championships.pdf
Hong Kong did have one Men's senior representative in the Men's open category that was Wilson Wong who finished a hard fought 93rd place. Well done to Wilson.
A big thank you to Athletics Australia and the local organizing committee for putting on a wonderful and unique 2023 World Cross Country Championships and hosting the very first World Masters Short Course Championships.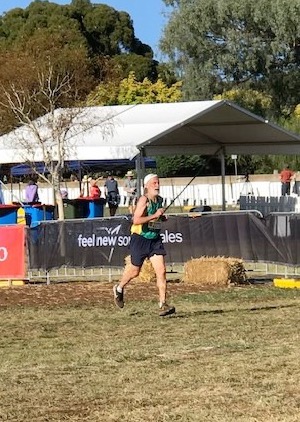 Clockwise from above:
– Chris Wardlaw driving hard to the finish line
– Chris with M70 winner John Bermingham (2266)
– "Yes, a bit of mud on the course"
Featured photo: Former AVOHK member Craig Downie M60 (2223) battling hard in 6km individual race
Colin Whittington
AVOHK Vice-Chair