Runners' Stories … Dr David Woo
In this feature, we introduce our AVOHK Committee Secretary, David Woo. And how better to do that than letting the man speak for himself. Much to the Committee's surprise, it turns out that David is an avid blogger. Nothing interests him more than the review of running shoes. His shoe reviews can attract thousands of views – so, quite the following!
Each shoe review clip runs for barely 1.5 minutes. Yet each episode is jam-packed with information. David describes a shoe's upper, midsole and outsole with such detail, and he reviews the performance of a shoe after running in it for hundreds of kilometers. His sharing is totally based on a personal interaction with each shoe!
What can we say? Having covered over 40 shoes in the past eight months, clearly our Committee Secretary runs a lot — approximately 70km per week — and wears out a vast wardrobe of running shoes in order to compile such an extensive blog.
So for this "Runners' Story", we feature David's latest shoe review, posted to YouTube on 2 April. Here he compares two big brands' flagship racing flats – New Balance 5280 and Reebok Run Fast Pro 2. Welcome to Dr. Woo's shoe review world!
"The New Balance 5280 and the Reebok Run Fast Pro 2, a comparison of these flagship racing flats' durability, comfort and performance.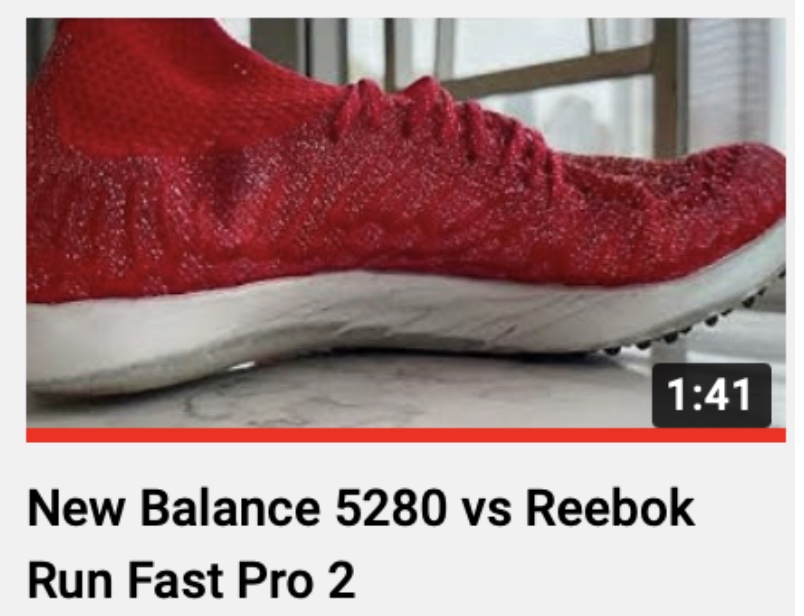 In terms of durability, the Speedtrac lugs on the Pro's outsole look brand new. Although the Dynaride lugs on the 5280 outsole also look brand new, the same cannot be said for the exposed Fuelcell midsole. In fact, there is noticeable compression in the Fuelcell midsole whereas the Pro's Floatride foam midsole still looks brand new. In this way, the Pro, which has endured four times the miles of the 5280, has shown surprising durability.
In terms of comfort, I haven't observed any problems with the Pro's upper; and the Pro's midsole provides plush cushioning yet allows me to feel the road. In contrast, the 5280's substantial Fuelcell midsole dampens my feel for the road. Besides, the lacing system is unusual and the upper's construction is narrow. All this creates such a tight fit, as though I were wearing a track spike, that I immediately remove the shoes after a race.
In terms of performance, especially because of its light weight and low profile, I have found that the Pro enables me to focus on cadence running. I have broken 200 steps per minute in this shoe. In contrast, the full length carbon fiber plate in the 5280 enables me to focus on stride running. The propulsion effect from the plate is very pronounced.
To conclude, if I could only wear one pair, I would choose the Run Fast Pro as a matter of comfort, and value for money.
If you enjoyed this video, please like, subscribe and comment. Thank you and bless you."
For more reviews, check out Dr Woo on YouTube https://youtu.be/qM0pHIjrghg or Instagram https://www.instagram.com/drwoo.running/